Uses
The hardware and software I use
Hardware
Laptop
My personal laptop is a Dell XPS 9370 from 2018.
CPU

Intel® Core™ i7-8550U Processor @ 1.8 - 4.0GHz

GPU

Intel® UHD Graphics 620

RAM

16GB RAM

Storage

512GB SSD

Display

13.3", 1080p

Weight

1.27kg
Desk and accessories
🇸🇪 My desk and chair are both from IKEA.
🖥️ I currently only have one monitor (ASUS VC239H 24", 1080p). It does the job but it's not the best quality. At some point, I plan to get a docking station, two new high-quality monitors, and a monitor stand to replace it. My current monitor stand is a copy of The Lord of the Rings!
🖱️ My mouse is a Logitech MX Master 3S.
⌨️ I don't currently have an external keyboard, but I'm looking for one.
🔊 I have a JBL Flip 3 speaker and Sony WH-1000XM4 headphones.
🎙️ I have a Yeti Snowball microphone. I've used it to narrate (unreleased) videos in the past, but it's just sitting in a drawer currently.
🪴 The plant sitting on my desk is a Zanzibar Gem. I bought it from an independent plant place in Bristol. The lady told me that "this plant thrives on neglect" and I thought "Finally, a plant I can handle!".
Gaming
I play games on my Steam Deck, usually connected to my TV. I wrote a blog post with my opinions on it.
I prefer to use either an Xbox 360 controller or a Steam Controller to play games. Except for strategy games, of course.
Servers
I use a Virtual Dedicated Server (VDS) from netcup (RS 2000 G9.5, 6-core 3.35GHz, 16GB RAM). This is used to host rubenwardy.com, Renewed Tab, and ContentDB.
I have a Raspberry Pi 3B+ in the corner of my living room, which does automatic daily backups of ContentDB.
Workshop and Electronics Lab
My 3D printer is a Prusa MINI+. I wanted something that just worked, and worked well, so I could focus on my own projects.
I use a Hakko FX-888D soldering station. It's so much nicer to use than the cheap was I was using previously. It's definitely worth investing in good tools.
Software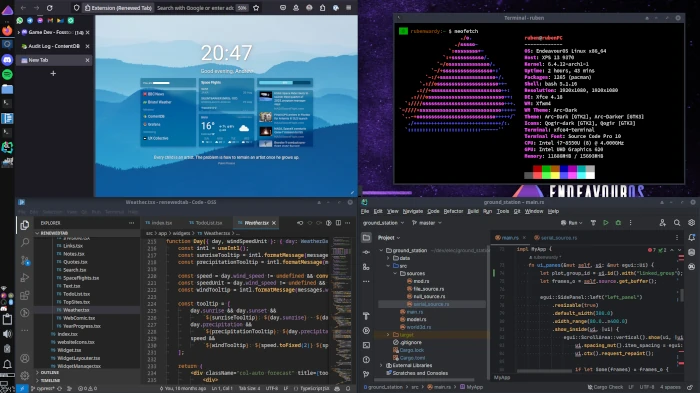 Linux
I use Linux as my daily driver. I'm currently using EndeavourOS with XFCE, but I have been known to distro-hop in the past.
DE

XFCE

GTK Theme

Ark-Dark

Icons

Qogir-Dark

Font

Noto Sans Regular

Apps

Firefox, Quassel, Albert, VSCode, CLion, PyCharm, Insomnia
I use Albert as a launcher to open applications, run calculations, and open Google searches in my browser.
Firefox
One reason I use Firefox is to support the open web and open standards. Chrome/ium having a monopoly bothers me. But the most important reason is that Firefox has the extensions I want:
The Tree Style Tab extension shows tabs on the left as a hierarchical list. It's great for researching as you get a logical tree structure for your deep dives. You can collapse nodes and bookmark entire trees.
The Containers extension allows you to open tabs in different containers, each with its own cookies and sessions. This allows you to log into a website multiple times, with different accounts. It's useful for keeping something separate from the rest of your browsing data, like work.
Development Environment
I use CLion for C++ and Rust, Android Studio for Android, PyCharm for Python, and VSCode for everything else.
My favourite VSCode plugins are:
I use Insomnia to test REST APIs.